The Sinner Season 2 Storyline
The Sinner Season 2: The Sinner is an American anthology crime drama mystery television series. Eight episodes of the program, based on the novel of the same name by German crime writer Petra Hammesfahr and originally conceived of as a "close-ended series", were ordered in January 2017 and premiered on USA Network on August 2, 2017.
Follows the story of a young woman who commits a horrific act of violence and rage, and to her surprise, has no idea why. The investigator who becomes obsessed with the case is determined to dig into her past and figure out why this is happening.
In March 2018, the series was renewed for a second season, also of eight episodes, which premiered on August 1, 2018, and concluded on September 19, 2018. In March 2019, the series was renewed for a third season. In November 2019, a trailer was released which revealed the third season is scheduled to premiere on February 6, 2020.
The first season of The Sinner received two nominations at the 75th Golden Globe Awards: Best Miniseries or Television Film and Best Actress – Miniseries or Television Film for Jessica Biel. Biel was also nominated for a Primetime Emmy Award for Outstanding Lead Actress in a Limited Series or Movie.
Sinner Season 2
In Season 2 of the drama series, Detective Harry Ambrose (Bill Pullman) goes back to his small hometown to investigate the murder of a couple by their 11-year-old son. As he tries to figure out why the boy would commit such a crime, it becomes clear that the town is hiding some very dark secrets that people will do anything in their power to protect. While attempting to bring these secrets to light, he also meets Vera (Carrie Coon), who might hold the key to understanding everything that's going on.
The Sinner Season 2 Episode 1
Essentials for family vacation: mode of transport (check), desired destination (check), all members of family unit (check). So far, the Lowrys — if that is in fact their shared surname — have a leg up on, say, the McCallisters of Home Alone fame. But they forgot a couple of key items that would typically make a road trip to Niagara Falls complete: clothes and toiletries for the (presumably) married couple's preteen son, and in the wife's (we think) case, any kind of identification so that police can know who she is if she turns up dead in a motel room with rocks covering her ritually closed eyelids.
This is when Dorchester, New York, detective Harry Ambrose and his colleague, Keller Police Department detective Heather Novack (who, we also learn, is the lesbian daughter of his childhood friend Jack, played by Tracy Letts), realize something's not quite right with their suspect's perfect confession. To this point in The Sinner's season-two premiere, which picks up shortly after Harry's wild ride vindicating accused murderess Cora Tannetti (Jessica Biel, staying behind the camera for this second installment in the anthology), things had been fairly plain, if disturbing: 13-year-old Julian (an impressive Elisha Henig, fresh off a memorable turn in Mr. Robot) poisoned his bickering parents to death by offering them a steaming hot mug of deadly jimson weed passed off as licorice tea, laid out their bodies in some ceremonial fashion and then ran off barefoot into the woods and pissed himself.
The Sinner Season 2 Cast
Carrie Coon as Vera Walker
Carrie, 37 is an American actress and takes on one of the main roles in this new series. Before The Sinner, she was best known for playing Nora Durst in The Leftovers (2014–2017). More recently she played the Black Order member Proxima Midnight in Avengers: Infinity War.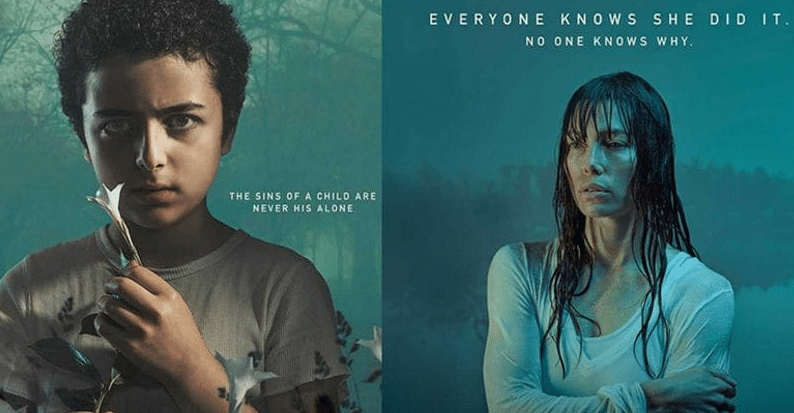 Elisha Henig as Julian Walker
Elisha takes on the role of Julian who the story is centred around. Season two starts off with him being taken on a trip to see the Grand Canyon – but out of nowhere he kills his parents. In real life Elisha is just 14 years old and recently starred alongside Zach Braff in Alex, In
Natalie Paul as Detective Heather Novack
Detective Novack is responsible for bringing Harry into Julian's murder investigation, after she heard about what he had done with the Cora Tannetti case (season one). She then becomes his sidekick in the investigation.
Hannah Gross as Marin Calhoun
Hannah, 28, takes on the role of the troubled Marin. Her dark story unfolds as the series progresses. Hannah is a Canadian actress who before The Sinner was known for Netflix drama Mindhunter.
The Sinner Season 2 Episode 8
The morning after Marin's death, Terry is sent in Vera's brown Volvo as a decoy to distract the police — including Harry and Heather — while Vera and Julian escape to New York, where an ex-Mosswood resident, Danielle, puts them up in her Chinatown apartment. Danielle doesn't know the full extent of their situation, just that they're running away from Mosswood and Keller and making their way to Washington State.
There, Vera says, they have friends of Mosswood who will take care of them — and "the biggest trees you've ever seen," she tells Julian. Vera also finally admits to Julian that she's been wrong for lying to him all this time; she should have told him about Marin, and she apologizes. Julian, though admittedly upset and distracted by the previous night's events at the motel, seems to be warming back up to the woman who raised him.
Does Netflix Have Season 2 Of Sinner?
Season two of The Sinner has been released on Netflix today (Friday, November 9). Netflix will be releasing all eight episodes at once in the UK and will be available on the platform from 8am. The Sinner season two has already been finished airing in America on the USA Network.
Where Is Season 2 Of The Sinner?
Season 2 (2018) After almost 15 years, Detective Harry Ambrose returns to his hometown of Keller, Upstate New York, to help investigate a double murder with Heather Novack, an old acquaintance's daughter who has just made detective.
Will There Be Season 3 Of Sinner?
Derek Simonds will return for Season 3 of "The Sinner" as executive producer and showrunner. Charlie Gogolak and Willie Reale also executive produce, with Adam Bernstein set to direct the first two episodes and executive produce.
Who Plays Vera In The Sinner Season 2?
Carrie Coon
The Sinner (TV Series 2017– ) – Carrie Coon as Vera Walker.